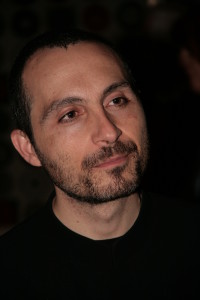 Born and raised in Foggia, Italy, Antonio Pompa-Baldi won the Cleveland International Piano Competition in 1999 and embarked on a career that continues to extend across five continents. A top prize winner at the 1998 Marguerite Long-Jacques Thibaud Competition of Paris, France, Antonio Pompa-Baldi also won a silver medal at the 2001 Van Cliburn International Piano Competition.
Mr. Pompa-Baldi appears regularly at the world's major concert venues including New York's Carnegie Hall, Paris' Salle Pleyel, Milan's Sala Verdi, Shanghai's Grand Theatre, and Boston's Symphony Hall. He performed in London, Tokyo, Seoul, Los Angeles, Philadelphia, Kiev, Auckland, Hong Kong, and Beijing, where he played a recital in the Forbidden City Concert Hall and conducted Master Classes at the China National Conservatory, being named Honorary Guest Professor of that institution.
Pompa-Baldi has played with the Houston Symphony, Berliner Symphoniker, Orchestre Philharmonique de Radio France, Boston Pops, and Colorado Symphony, among many others.  His extensive recording catalogue features 20 CDs. Among them, the entire piano repertoire of Grieg for Centaur Records, a live recital of his award-winning Cliburn Competition performances on Harmonia Mundi, and "The Rascal and the Sparrow-Poulenc meets Piaf", piano arrangements of songs by Francis Poulenc and Edith Piaf on the Steinway Label. His latest CD, "After a reading of Liszt", is a tribute to Liszt recorded live in recital at the Stellenbosch Conservatory, and released by the South African label TwoPianists.
In May 2014, Pompa-Baldi completed live performances of all the Rachmaninoff Concertos and Paganini Rhapsody with the Cape Town Philharmonic. In March 2015, he is scheduled to perform all the Beethoven Concertos in Fresno, CA, under the baton of Maestro Theodore Kuchar. In January 2015, he will play the opening recital of the First Lang Lang International Piano Festival in Shenzhen, China.
A Steinway artist, Mr. Pompa-Baldi is on the piano faculty of the Cleveland Institute of Music.
Please visit www.pompa-baldi.com for more information, and like Antonio's Facebook page to interact and communicate with him: http://www.facebook.com/PompaBaldiPiano
Antonio Pompa-Baldi
Concert Pianist
Distinguished Professor of Piano
Cleveland Institute of Music
timm@todimusicmasters.com
Sign up to receive my newsletter! www.eepurl.com/Gm8u1
www.pompabaldi.com
www.facebook.com/PompaBaldiPiano
www.youtube.com/antoniopompabaldi
www.antoniopompabaldi.blogspot.com/
twitter.com/PompaBaldiPiano
For questions, please contact us at timm@todimusicmasters.com or via WeChat: TODIMUSICMASTERS.