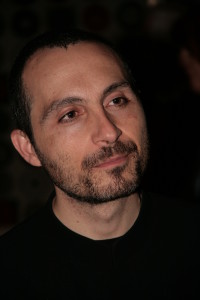 Born and raised in Foggia, Italy, Antonio Pompa-Baldi won the Cleveland International Piano Competition in 1999 and embarked on a career that continues to extend across five continents. A top prize winner at the 1998 Marguerite Long-Jacques Thibaud Competition of Paris, France, Antonio Pompa-Baldi also won a silver medal at the 2001 Van Cliburn International Piano Competition.
Mr. Pompa-Baldi appears regularly at the world's major concert venues including New York's Carnegie Hall, Paris' Salle Pleyel, Milan's Sala Verdi, Shanghai's Grand Theatre, and Boston's Symphony Hall. He performed in London, Tokyo, Seoul, Los Angeles, Philadelphia, Kiev, Auckland, Hong Kong, and Beijing.
He appeared multiple times at prestigious festivals such as the Lang Lang Festival in Shenzhen, the Husum Piano Rarities in Germany, the Ravello Festival in Italy, and many others.
Pompa-Baldi has played with the Houston Symphony, Berliner Symphoniker, Orchestre Philharmonique de Radio France, Boston Pops, and Colorado Symphony, to name a few, performing cycles of all the Rachmaninoff and Beethoven Piano Concertos, among others.
Mr. Pompa-Baldi has recorded over 30 CDs to date, for various labels including Centaur Records, Harmonia Mundi, Steinway, TwoPianists, Azica, and Brilliant Classics. Among them, the complete piano and chamber music works of Grieg, the Josef Rheinberger Piano Sonatas, the complete Hummel Piano Sonatas, and CDs dedicated to Brahms, Schumann, Liszt, Respighi, and Rachmaninoff.
For the Steinway label, Pompa-Baldi recorded a disc of songs by Francis Poulenc and Edith Piaf, arranged for solo piano, to commemorate the 50th year of the passing of both French musical icons, as well as a CD titled "Napoli", which features new piano versions of famous Neapolitan songs.
His latest releases feature Concertos for Violin, Piano and Orchestra by Mendelssohn, Haydn, and Hummel, as well as his transcription of the Respighi B minor violin Sonata. Another notable recent release, on the Steinway Label, is titled "Opera Fantasies on a Steinway". It features two large Fantasies on La Bohème and Carmen, composed by Roberto Piana.
A Steinway artist, Mr. Pompa-Baldi is a Distinguished Professor of Piano at the Cleveland Institute of Music. He is also honorary professor at the China National Conservatory in Beijing, as well as various other schools and universities.
Please visit www.pompabaldi.com for more information.
Social media:
www.pompabaldi.com
www.facebook.com/PompaBaldiPiano
www.youtube.com/antoniopompabaldi
twitter.com/PompaBaldiPiano
For questions, please contact us at timm@todimusicmasters.com or via WeChat: TODIMUSICMASTERS.