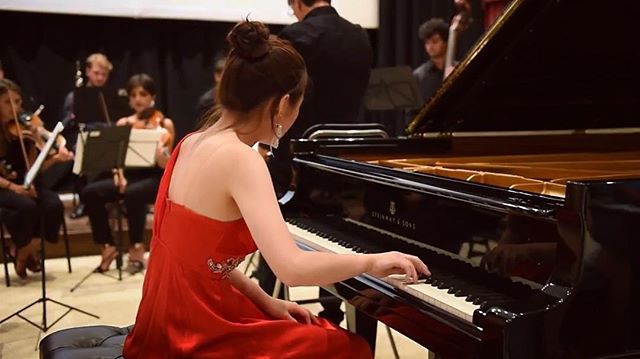 For the 2022 Edition of TIMM, the best 8 festival participants will be awarded a prize of €1000 each. The choice of the best 8 participants will be made based on their playing in the solo recital and Concerto performance during the festival, as decided by the festival's Artistic Director.
Four students will be selected by the Artistic Director to perform their Concerto movement again with orchestra, in Cittá della Pieve (about 1 hour by car from Todi. Transportation will be provided). This award performance will take place on August 18, and each performer will receive a €200 honorary fee. This performance is in addition to the Concerto performance in Todi, during the TIMM festival.
The following is a list of concerto movements that participants can choose from, if they wish to perform with chamber orchestra (first movements only, unless otherwise indicated).
Johann Sebastian Bach
Concerto in D minor, BWV 1052
Franz Joseph Haydn
Concerto in D Major
Wolfgang Amadeus Mozart
Concerto in A major, K414
Concerto in D minor, K466
Concerto in C Major, K467 (First OR Last Movement)
Concerto in A Major, K488
Ludwig van Beethoven
Concerto N.1 in C Major, Op. 15
Concerto N.2 in B flat Major, Op. 19 (First OR Last Movement)
Concerto N.3 in C minor, Op.37
Triple Concerto, Op. 56 for piano, violin, cello & orchestra
Frederic Chopin
Concerto in  E minor, Op. 11
Concerto in F minor, Op.21 (First OR Last Movement)
Felix Mendelssohn
Concerto N.1 in G minor, Op.25
Robert Schumann
Concerto in A minor, Op.54
Dmitri Shostakovich
Concerto N.1, Op. 35 for piano, strings and trumpet
Concerto N.2, Op. 102
The artistic director reserves the right to cancel a solo or concerto performance in case the applicant doesn't have the repertoire memorized or is otherwise not ready to perform. We understand that every participant performs at their own level, and will not prevent anyone from playing based on their general level of accomplishment. We will however expect the student to be able to play the chosen piece from memory, and with an acceptable degree of polish.
OUR CONDUCTOR, FRANCESCO D'OVIDIO
Born in Naples in 1967, he holds numerous degrees from the prestigious Napoli Conservatory, in piano, composition, choral music, choral conducting, and orchestra conducting. His conducting teacher was Maestro Mariano Patti. Among his piano teachers, Aldo Tramma, Bruno Canino, and Piernarciso Masi. He was also a student and an assistant conductor to Piero Bellugi, and took masterclasses with Gustav Kuhn. In 1995, Maestro D'Ovidio won the national competition for a professorship in piano. He taught in Pesaro, Bolzano, Palermo, Cosenza, Campobasso and Vicenza. Currently, he teaches at the "Nicola Sala" Conservatory in Benevento, where he is also the head of International Relationships and Coordinator or Erasmus, as well as head of the keyboard department.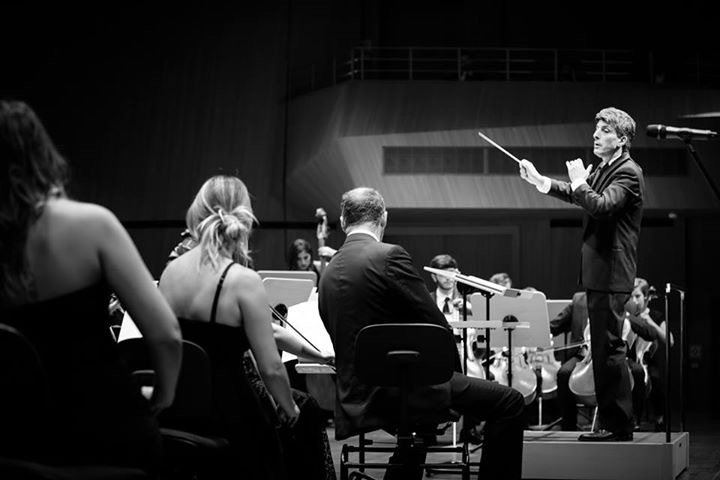 His concert activity began as a pianist, both solo and chamber music, performing for important institutions in France, England, Luxembourg, Austria, Germany, Poland, Romania, Greece, United States and Canada. As a conductor, he is a frequent guest of Nuova Orchestra Scarlatti in Napoli, Fondazione Teatro Umberto Giordano of Foggia, and various orchestras in Bari, Napoli, Romania (Oradea, Arad, Cluj), and Ukraine (Kharkov). Maestro D'Ovidio is also active as a composer and arranger, both in the Classical domain, as well as the Musical. Recently, he started a project with the Fundación Batuda of Bogotá and the Red de Escuelas de Musica in Medellin, Colombia, for a collaboration with the Colombian government in creating youth orchestras and music education programs. He toured Poland with the Benevento Conservatory Orchestra in 2016. In December of this year, he is scheduled to conduct Il Barbiere di Siviglia in a partnership between the Benevento Conservatory and the Turkish Conservatory of Izmir.
TIMM ENSEMBLE
TIMM ENSEMBLE is comprised of professional musicians among the very best in Italy. They are all experienced orchestra players, and are currently working with many great ensembles in Italy and abroad. Among the orchestras with whom our Maestros have worked or are currently working: Teatro "Alla Scala"-Milan; Teatro "La Fenice"-Venice; Orchestra del Teatro dell'Opera-Rome; Orchestra del Teatro San Carlo-Naples; Orchestra Sinfonica Nazionale "Santa Cecilia"-Rome; Orchestre de la Suisse Romande; Orchestra Scarlatti-Naples; Teatro Massimo-Palermo; "Pomeriggi Musicali"-Milan; Orchestra Filarmonica-Benevento; Orchestra RAI-Naples; European Youth Orchestra; Orchestra Sinfonica Abruzzese; Orchestra Sinfonica Siciliana; Teatro Lirico-Cagliari; Teatro "Petruzzelli"-Bari; Chamber Orchestra "Accademia Chigiana"-Siena.
---
For questions, please contact us at timm@todimusicmasters.com or via WeChat: TODIMUSICMASTERS.