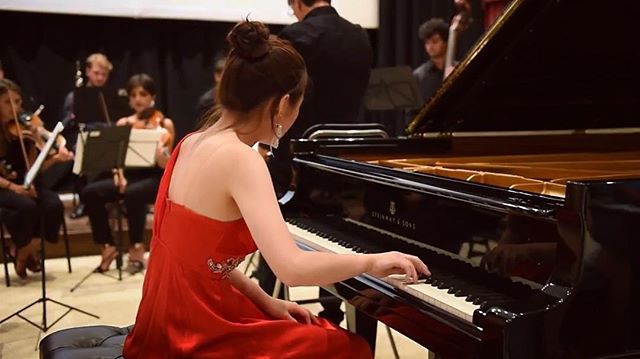 The following is a list of concerto movements that participants can choose from, if they wish to perform with the orchestral ensemble (first movements only, unless otherwise indicated).
Johann Sebastian Bach
Concerto in D minor, BWV 1052
Franz Joseph Haydn
Concerto in D Major
Wolfgang Amadeus Mozart
Concerto in A major, K414
Concerto in F Major, K459
Concerto in D minor, K466
Concerto in C Major, K467 (First OR Last Movement)
Concerto in A Major, K488
Ludwig van Beethoven
Concerto N.1 in C Major, Op. 15
Concerto N.2 in B flat Major, Op. 19 (First OR Last Movement)
Concerto N.3 in C minor, Op.37
Concerto N.4 in G Major, Op.58
Triple Concerto, Op. 56 for piano, violin, cello & orchestra
Frederic Chopin
Concerto in E minor, Op. 11
Concerto in F minor, Op.21 (First OR Last Movement)
Felix Mendelssohn
Concerto N.1 in G minor, Op.25
Robert Schumann
Concerto in A minor, Op.54
Dmitri Shostakovich
Concerto N.1, Op. 35 for piano, strings and trumpet
Concerto N.2, Op. 102
The artistic director reserves the right to cancel a solo or concerto performance in case the applicant doesn't have the repertoire memorized or is otherwise not ready to perform. We understand that every participant performs at their own level, and will not prevent anyone from playing based on their general level of accomplishment. We will however expect the student to be able to play the chosen piece from memory, and with an acceptable degree of polish.
OUR CONDUCTOR, FRANCESCO D'OVIDIO
Francesco D'Ovidio was born in in Naples, Italy.
He attended the San Pietro a Majella State Conservatory of Music.
He has been awarded a Masters degree in Piano, Composition, Orchestral Conducting, Choral Music and Choir Conducting.
He began his career as a pianist at a very young age, performing as a soloist and in chamber music ensembles around Italy, and abroad (France, England, Luxembourg, Austria, Germany, Poland, Romania, Greece, United States and Canada).
As a pianist he won the national competition to become a piano teacher in Italian Music Conservatories, a role he has been fulfilling since 1998.
He currently teaches piano at the Nicola Sala State Music Conservatory of Benevento, following his previous positions at the Italian State Music Conservatories of Pesaro, Bolzano, Palermo, Cosenza and Vicenza.
By january 2019 until December 2019 Francesco D'Ovidio also has been working as visiting professor, as a pianist and conductor, at the Dokuz Eylul State Conservatory of Music in Izmir (Turkey).
At the Benevento Nicola Sala State Conservatory of Music Francesco D'Ovidio also holds the role of Professor responsible for coordinating international relations. In this role he aims at promoting and managing the Conservatory projects, collaborations and international productions with Universities and Conservatories in Europe (Scotland, Poland, England, Turkey, Spain, Portugal, Norway) and in the world (Jordan, USA, Colombia, China.).As International Relations Coordinator he worked also with the Tagliacozzo Midsummer International Festival where also, in august 2018, he conducted the DESO Symphony Orchestra (Turkey).
At the Benevento Nicola Sala State Conservatory of Music, Francesco D'Ovidio works also as the orchestral conductor of the Nicola Sala Symphony Orchestra. With this orchestra he is frequently giving concerts, during every academic year.
Francesco D'Ovidio started his activity as a conductor with the Ensemble Musica Viva (an ensemble performing twentieth-century theatrical-musical). He worked with important and well known Italian actors and directors, such as Michele Placido, Alessandro Haber, Rocco Papaleo, Patrizio Rispo, Marina Tagliaferri, Luigi dall'Aglio and Mauro Gioia.
Francesco D'Ovidio has been assistant conductor (opera and symphonic repertoire) for Maestro Piero Bellugi and for Maestro Marcello Panni, collaborating with leading artists such as Luis Bacalov, Alun Francis, Bruno Aprea, Gianluca Terranova, Renè Clemencic, Aldo Ciccolini, Carlo Bruno and many others.
Francesco D'Ovidio has conducted (Symphonic and Opera) many Orchestras, including the Nuova Orchestra Scarlatti of Naples, the Orchestra Umberto Giordano of Foggia, the Istituzione Concertisica Orchestrale (ICO) of Bari, the Solisti del San Carlo (San Carlo Theater of Naples), the Milano Classica Symphony Orchestra, the Pomeriggi Musicali Symphony Orchestra (Milan), the Oradea State Philharmonic Orchestra (Romania), the National Philharmonic Orchestra of Arad (Romania), the Opera Maghiara of Cluj Napoca the National Orchestra of the Kharkov Opera Theater, the Dokuz Eylul Symphony Orchestra (DESO – Izmir – Turkey).
Francesco D'Ovidio is the orchestral Conductor of the TIMM (Todi International Music Masters a well known Italian festival organized by the world-renowned pianist Antonio Pompa-.Baldi) where every summer he conducts the festival ensemble, accompanying young pianists coming from all over the world.
Francesco D'Ovidio is also a composer and an arranger.
As a freelance music arranger, Francesco D'Ovidio realized numerous transcriptions and adaptation productions of well known works by Stravinsky, Martinu, Dvorak, Smetana, Gershwin, Morricone, Sakamoto, Kurt Weil, all played in public concerts.
He composed and directed the music for the musical Angelo Quante Volte un Uomo, dedicated to the famous story of the manager / clochard Angelo Starinieri.
The Musical, written and directed by the Sicilian director Giovanni Volpe, premiered in Milan at the Teatro Nuovo and was then perfomed as part of the the Teatro Ciak season in Milan.
With Antonio Maiello, the famous Italian singer-songwriter, he wrote the Musical Federico II La Danza del Falcone, under the production of David Zard. This work had its world premiere at the opera house in Assisi and was subsequently proposed for the Teatro dell'Opera of Agrigento and Teatro dell'Opera of Palermo.
Francesco D'Ovidio's associations with Antonio Maiello also include international collaborations for music events, organised by the group Antonio Maiello and Les Amis du Monde, in which he holds the role of pianist, director and arranger.
The group recently performed at the international event and concert for the Tunisian Nobel Prize Wided Bouchamaoui, held in Naples in Piazza del Plebiscito, in the presence, among others, of the Ambassador of Tunisia in Italy.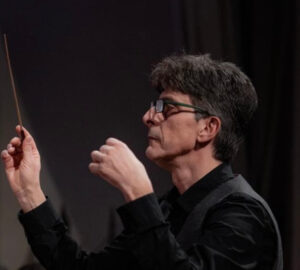 TIMM ENSEMBLE
TIMM ENSEMBLE is comprised of professional musicians among the very best in Italy. They are all experienced orchestra players, and are currently working with many great ensembles in Italy and abroad. Among the orchestras with whom our Maestros have worked or are currently working: Teatro "Alla Scala"-Milan; Teatro "La Fenice"-Venice; Orchestra del Teatro dell'Opera-Rome; Orchestra del Teatro San Carlo-Naples; Orchestra Sinfonica Nazionale "Santa Cecilia"-Rome; Orchestre de la Suisse Romande; Orchestra Scarlatti-Naples; Teatro Massimo-Palermo; "Pomeriggi Musicali"-Milan; Orchestra Filarmonica-Benevento; Orchestra RAI-Naples; European Youth Orchestra; Orchestra Sinfonica Abruzzese; Orchestra Sinfonica Siciliana; Teatro Lirico-Cagliari; Teatro "Petruzzelli"-Bari; Chamber Orchestra "Accademia Chigiana"-Siena.
---