[:en]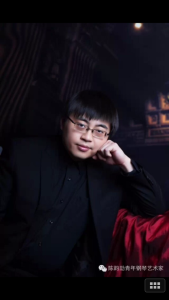 Yunjie Chen is a Professor of Piano of the Central Conservatory of Music in Beijing, China.
Yunjie Chen was born in Jiaxing city. He showed extraordinary musical talent from a very young age. He graduated from Manhanttan school of Music, Juilliard School and Cleveland Institute of Music. In 2011 he became the youngest piano faculty of the Central Conservatory of Music in Beijing. Since then, his students have won top prizes in important international competitions such as Imola in Italy, Chopin in Russia, Ettilingen in Germany. His students have also won many important Chinese national piano competitions such as the Spring of Shanghai, Xinghai and Zhu Jiang.
Mr. Chen won first prize in the national piano competition of China at the age of twelve. He then won the China international piano competition in 1994. During his studies in the States, he won prizes in many important International piano competitions such as Santander in Spain; Cincinnati, Cleveland, YCA, Gina Bachuer in the States; Long-Thibaud in France; Isang Yun and Seoul in Korea.
Yunjie Chen has performed with the Sydney TV and Radio Symphony; French National Symphony; Santander Philharmonic in Spain; Fort Smith Symphony, Paducah Symphony, Cincinnati Symphony in the States; Shanghai Opera House Symphony and China National Symphony in China; Suwon Philharmonic and Changwon Philharmonic in Korea.
He performed in more than 20 cities in the States. His 2001 solo recital in the Kennedy Center in D.C. was highly praised by the Washington Post. In 2003, he toured nine countries in Europe. In 2011, he was invited to play in Korea for solo recitals and also with the lengendary Korean cellist Myung-wha Chung. In the 2013-2014 Season, he played 35 solo recitals in China, and also with the China Youth Symphony, Guangzhou Symphony, and Hanzhou Philhamonic.
Yunjie Chen was invited to be a jury member of the 2012 Cleveland international junior piano competition, 2013 CCOM piano competition, 2014 China Junior "Golden Bell" national piano competition, and 2015 "Zhu Jiang" national piano competition.
Yunjie Chen studied in Shanghai Conservatory with Prof. Junwen Zhang, Shuxin Zheng, Eryao Ling, Dachun You, Dan Shao and Ying Wu; at Manhattan School of Music with Prof. Kawin; at Juilliard School with Prof. Kaplinsky and Prof. Raekallio, and at the Cleveland Institute of Music with Prof. Antonio Pompa-Baldi. He also studied with Maestro Fu T'song in the world famous Lake Como Foundation in Italy.
Yunjie Chen was the first, and so far only Chinese pianist to perform the complete Ten Piano Sonatas of Scriabin. April 27, 2015 marked the 100th anniversary of Scriabin's death. On that very day, he performed the complete Scriabin sonatas in the Forbidden City Concert Hall in Beijing, China. It was the first time in the world that a pianist performed the complete Scriabin sonatas in one single recital. The event was a huge success, being hailed as "one of the most important concerts of the year" by Chinese media.
For questions, please contact us at timm@todimusicmasters.com or via WeChat: TODIMUSICMASTERS.

[:]